What are natural-looking eyewear frames?
If you've got an eye for trends, then you'll know that natural-looking frames made from wood and bamboo are on point right now.
Botany
They're all part of the current appetite for natural materials and looks when it comes to home furnishing, fashion, and accessories. It's all part of a shift towards a more sustainable lifestyle and choosing everyday items that reflect that sentiment.
That's why in this article, we're going to explore the hottest frames for your eyeglasses and sunglasses that tap into the "au naturel" trend. And with so many flattering and stylish bamboo and wooden glasses frames available, you'll be spoilt for choice.
We'll explain the benefits of wooden and bamboo glasses frames and give you some pointers on what you should think about when choosing the right eyeglasses or sunglasses.
And to make it super easy for you to tag onto the latest trend in natural materials, we're going to pick out some of the best examples of wood and bamboo frames for eyeglasses. Not only do they nail this pure and earthy style but are great value for money too.
So join us as we set off to discover more about your next fashion-forward frames!
Benefits of bamboo and wooden glasses frames
Before we start, it's good to know why bamboo and wooden frames make a superior choice for your eyeglasses and sunglasses.
The first benefit that springs to mind is that they are eco-friendly materials, which can be easily replenished after harvesting from renewable sources. In fact, bamboo is one of the fastest-growing plants in the world, so there's no shortage of this natural material!
Wood and bamboo are both versatile materials, which means they can be fashioned into any style of glasses frames, whether that's classic, minimalist, or even ultra-fashionable and edgy.
With a variety of shades and finishes, you'll easily find a shade to suit any complexion.
And did we mention that they're both hard-wearing and affordable materials, perfect for daily wear in all conditions?
These are the reasons why wood and bamboo are leading the way when it comes to showcasing the latest trends in glasses frames.
Wooden frames for prescription glasses
If you're looking to shake up your style, then wood frame prescription glasses are an easy and affordable way to achieve this goal.
The look is minimalist eco-chic, drawing attention to your best asset — your eyes — while channeling your green credentials and love of nature.
Take a look at our round-up of the best bamboo and wooden glasses frames and find a style that speaks to you.
Everglades round red and red wood eyeglasses
The Everglades model smashes two trends in one with its mixed acetate and wood frame and on-point round lenses. Not only stylish, but these frames are also practical with the hard-wearing acetate lens surround and wooden arms that complete the look. We've showcased the Red & Red Wood option here to show you that a stand-out color works beautifully with the grain of the wood. With black and wood and green and red wood options also available, you'll find the perfect frame for you.
White pine rectangle black eyeglasses
If your vibe is a little playful but 100% stylish, reach for these White Pine frames. Flattering for any face shape and suitable for men and women, they feature a black frame front for maximum impact teamed with a bamboo finish on the arms. Wear them in the office or when you're off-duty, knowing that this versatile look suits all occasions. Once worn, these distinctive frames will never be forgotten!
Miramar aviator matte black eyeglasses
The aviator trend is visible everywhere right now, so tap into it with these up-to-the-minute Miramar frames. You'll love this classic frame shape with a twist thanks to the matte black finish around the lenses and temple tips with the light wood arms, elevating this choice to the next level of chic! Think Top Gun meets the 21st century — that's what these frames are all about!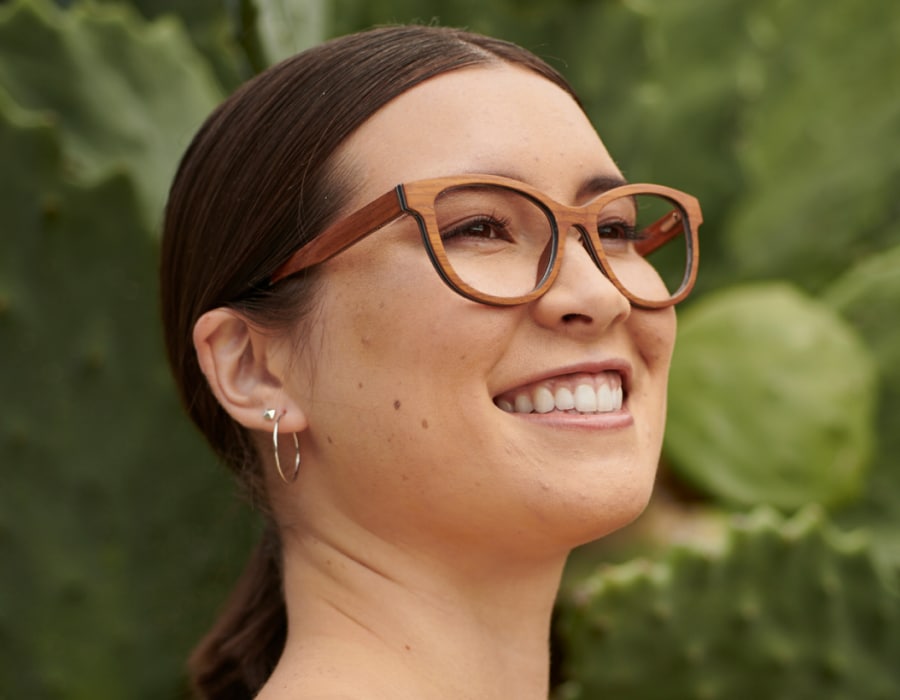 What else do I need to know about wood frame prescription eyeglasses?
When you're choosing your wood frame prescription eyeglasses, there are a couple of other factors besides style that you need to consider.
For the first step, see your optometrist to get a prescription that's tailored to your individual needs.
Then you'll need to think about factors like your face shape and size to find the right style frame for you.
Also, consider whether you need single-vision or multi-vision lenses and if you want to add a coating to suit your lifestyle, such as a scratch resistant for glasses that are used day in, day out.
With just a little bit of thought and maybe experimenting with the latest natural-looking styles, it won't be long before you've found the perfect wood or bamboo eyeglasses!
Wooden frames for prescription sunglasses
Wood frame prescription sunglasses are the ultimate choice for those bright, sunny days.
Bringing you in closer touch with nature, they're exactly what you need to express your style, and they fit right in with all those outdoor pursuits.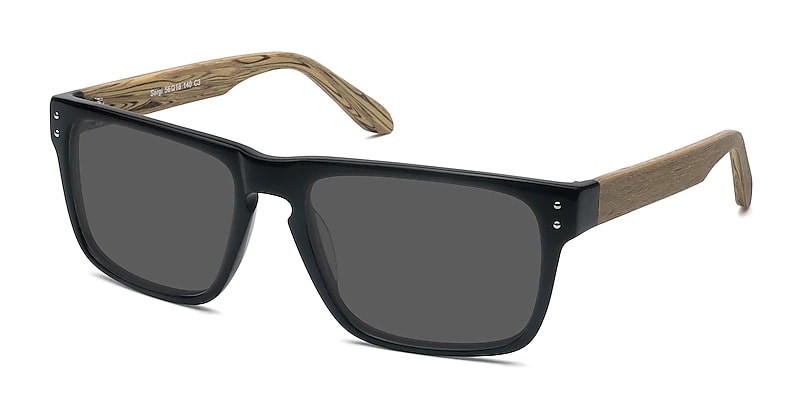 We've selected the best examples of wooden and bamboo sunglasses so you can channel all those sunny vibes in a natural, easy-to-wear style.
Grow rectangle black and wood sunglasses
Nurture your sense of style with our Grow sunglasses. They're the updated version of the classic sunglasses, featuring a black recycled acetate face front complete with double stud rivets and wood arms for a modern-day edit. This look truly never goes out of fashion, so make these your go-to sunglasses for all those sunny days.
Bosk rectangle striped wood sunglasses
If you love the wooden look, max it out with Bosk sunglasses. The wood grain is clearly visible in the design of these shades, making them a stand-out piece in your accessories collection. And you'll find that the classic rectangular shape means that you can wear them with any outfit to look effortlessly cool.
Tell me more about choosing wood frame prescription sunglasses
So you've found the ultimate wood frame or bamboo sunglasses. What else do you need to know?
Sunglasses are not just a fashion statement. Not only do they shade your eyes from the glare of the sun to make everyday life more comfortable, they also protect your eyes from harmful UV rays. For the highest level of protection, look for sunglasses with a UV 400 label. This means they'll provide nearly 100% protection from harmful rays.
Prescription sunglasses are the best choice if you already wear eyeglasses to improve your vision as they'll give you the same clarity but with added protection.
Don't forget to store your prescription sunglasses in a case to protect them against accidental scratches and distortions, especially if you use them frequently while outdoors.
And remember that you don't actually need to spend a fortune to find a pair of sunglasses that will protect your eyes, suit your face shape, and match your personal style. Try browsing a variety of styles in our selection to find a pair that suits your budget and your individual look too!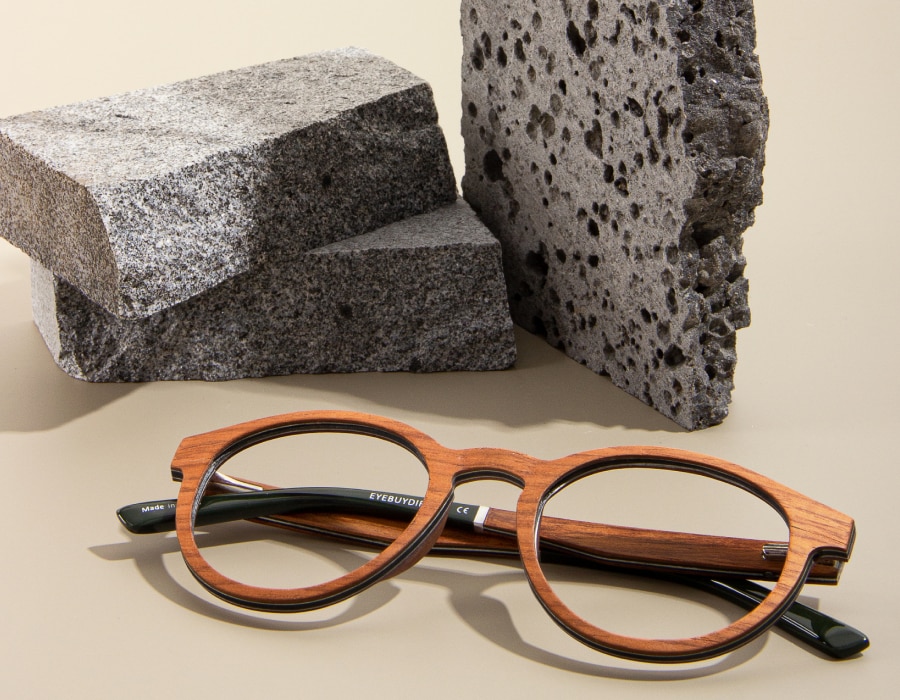 How easy is it to buy natural-looking frames online?
You've read all about wooden and bamboo frames and learned how stylish, practical, and downright versatile they are. Perhaps you've even browsed a few of our selected styles and found one or more that suit you. So your next question is bound to be, how easy is it to buy natural-looking frames online?
It's super easy! Start by taking our Fit and Style Eyewear Quiz to match your eyeglasses or sunglasses to your personal style, face shape, and preferred frames. The quiz will also guide you through inputting the correct measurements and prescription, as well as let you choose special features like nose pads and spring hinges.
You can even get a preview of how your chosen style will look on your face with our Virtual Try-On widget. Just enable camera access on your cell phone or upload a video or photo of yourself and try your chosen styles that way. It's a simple and convenient way to try on a variety of styles from the comfort of your own home.
Once you've settled on those perfect natural-looking glasses, leave the rest to us. We'll create your unique eyeglasses or sunglasses and have them shipped out to you within 7-14 business days. And if you can't wait that long, we have a $19 2-Day Delivery service to whisk your new glasses to you in the shortest possible time.
You can even exchange or return your glasses within three months, with our customer service team guiding you through the process.
Our mission is to make quality glasses accessible to everyone, bringing a wide range of eyeglasses and sunglasses in the latest styles and materials directly to your door. If you're curious to try the natural frame trend, now has never been a better time to start browsing!