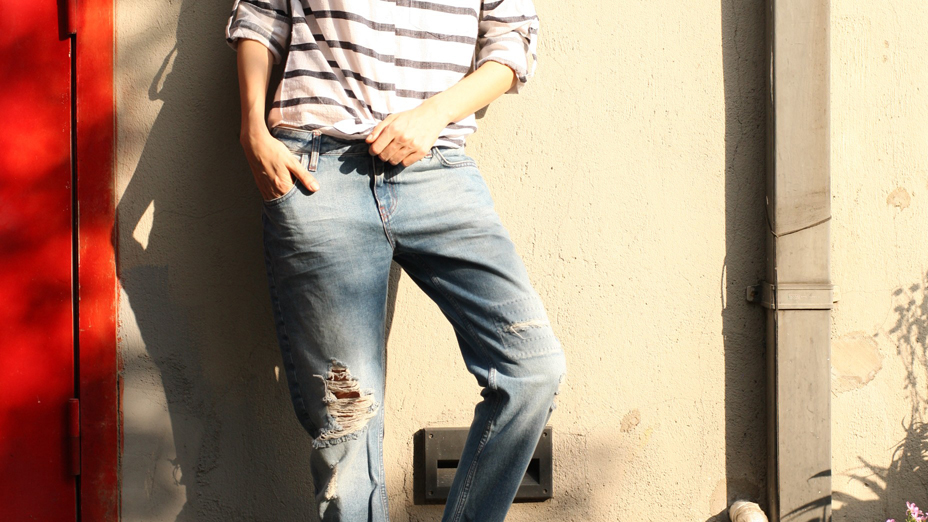 We recently launched our Summer 2015 Collections for men and women and an important part of launching a collection is taking and selecting photos to showcase our frames. We try dozens of glasses and sunglasses, put together plenty of outfits, and shoot from countless angles. So when we arrange a shooting it's incredibly important to have a whole slew of outfits and products ready to go.
Urban outfit with light pink Interlude sunglasses
After a day or two of shooting we can end up with hundreds of photos. While we'd love exhibit them all, it's impossible to feature every photo taken. Each collection has a certain style that we want to convey, so when we gather clothing and compose outfits for our shootings, we set out with a definite theme in mind. But once we get into the thick of things, the selection process during the shooting can actually end up being a pretty random process. We never know where and when inspiration may hit, which means we're always ready to change on the fly. We will build an outfit around a frame. We'll try half a dozen different frames with a single outfit. Sometimes we see an ideal shot and build a whole ensemble around it. However, time is of the essence during a shoot.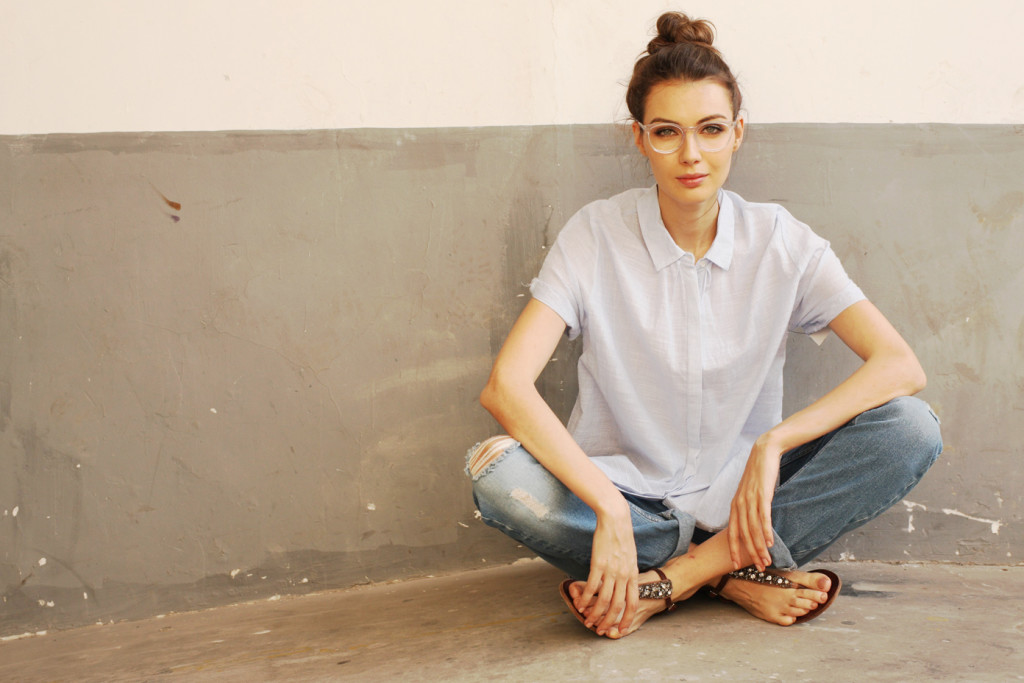 Boyfriend look with clear Morning frame
To ensure that a shoot flows smoothly, we make sure that we have the basics to compose simple and quick ensembles, and getting ensembles together can be a huge time suck. The importance of having a simple look during a shoot is that we can change one or two elements and alter the impression it gives off. It's the same philosophy as maintaining a solid collection  of basics at home – make sure there are a few elements paired with some accessories that are simple and can quickly be put together to give you several different variations from similar elements.
We thought we'd take the time to share some photos and give a breakdown of the outfits we created for a recent shooting to serve as a style guide to help you out this summer. A good look for this summer is the boyfriend look. It can be easy to put together, but also easy to alter with just some slight changes. For our Summer 2015 Collection we played around a lot with a couple variations of boyfriend outfits. We finally settled on one where Lidiana is wearing loose torn jeans, a white cotton top with navy stripes, and beaded, brown, leather sandals. We chose three frames that give the outfit three different feels: Interlude, Perception, and Rose.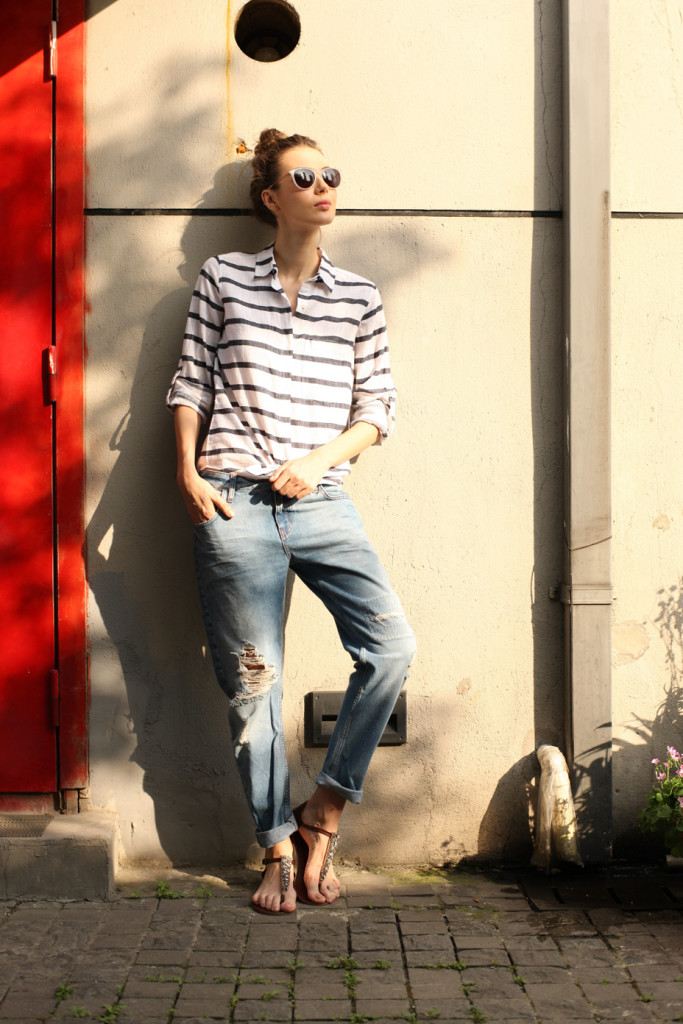 Cool boyfriend look with pink Interlude
Joe Cool: You've stolen his jeans… and maybe his shirt too. He won't mind. They look better on you anyways. The pink Interlude sunglasses give Lidiana's outfit a cool defiant vibe. Interlude comes in tortoise shell as well, but we chose the soft pink frame to give a more feminine touch to the boyfriend look.
Artsy boyfriend look with Perception
Art School Girl: You needed a weekend project so you decided to hit up the thrift store. You found some old men's clothes. The shirt was fine, but you decided the jeans needed some more character. Perception is a more lighthearted frame. The clear yellow Perception gives the whole outfit a more energetic and fun appearance. Also, playing with basic complementary colors is an easy way to show you know how to stand out without standing out too much.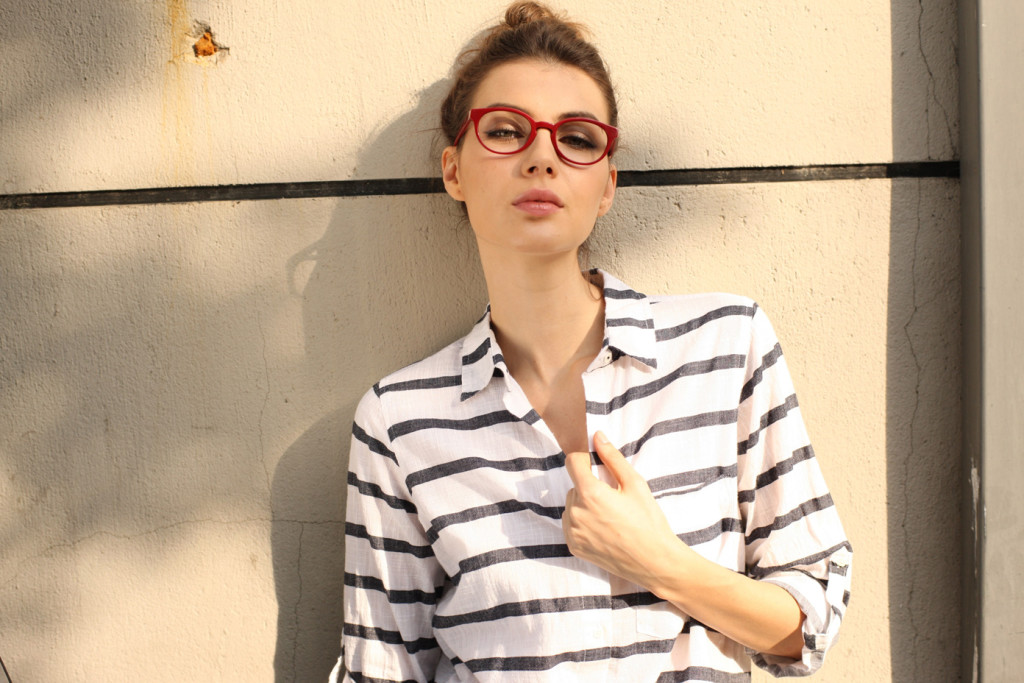 Come-hither boyfriend look with Rose
Eye Catcher: It's laundry day, but you want to stand out. All you've got left in the bottom of your drawers are some old clothes from your ex. A red accent piece is a quick fix for this. Red Rose says that you're not playing around. No matter the outfit, you'll stand out. It can change anything from bland to bewitching.
We hope this was useful and will help you look hot this summer. Please give let us know what you think.